CR News, Volume 8, Issue 1 (Oct-Dec 2017) E-Newsletter
CR Sector to set-up Consortium: National Consultation
Over 100 representatives and domain experts of Community Radio (CR) sector came together to partake in the National Consultation on Strengthening Community Radio in India organized by UNESCO Chair on Community Media and UNESCO New Delhi...
Inclusion for all: Community Radio for...

Inclusion of all sections of the society and diversity of listeners characterize...

Capacity Building: a tacit need to CR extension
The paper presentation at the second session of National Consultation...
CR Sustainability: a social, institutional...

Rejecting the generally perceived meaning of the word sustainability to...

Manifold Participation To Be The Headway...

Community Radio (CR) broadcasting has advanced from being...

The Technological Passage Of CR
The idea of Social and technology are entwined and have the capacity to...
Time To Redefine And Refine CR policies
In 1995 the Supreme Court declared the airwaves to be public...

NATCON recommends formation of CR consortium for effective stakeholder collaboration.
The community radio experts and participating stations as well as organizations present at the two-day National Consultation on Strengthening Community Radio in India organized by the UNESCO Chair on Community Media and UNESCO on April 11 and 12, 2017...

Audio Testimonial: Archana Kapoor

Audio Testimonial: Ashish Sen

Audio Testimonial: Arti Jaiman

Audio Testimonial: N A Ansari

Audio Testimonial: Rukmini Vemraju

Audio Testimonial: Ramakrishnan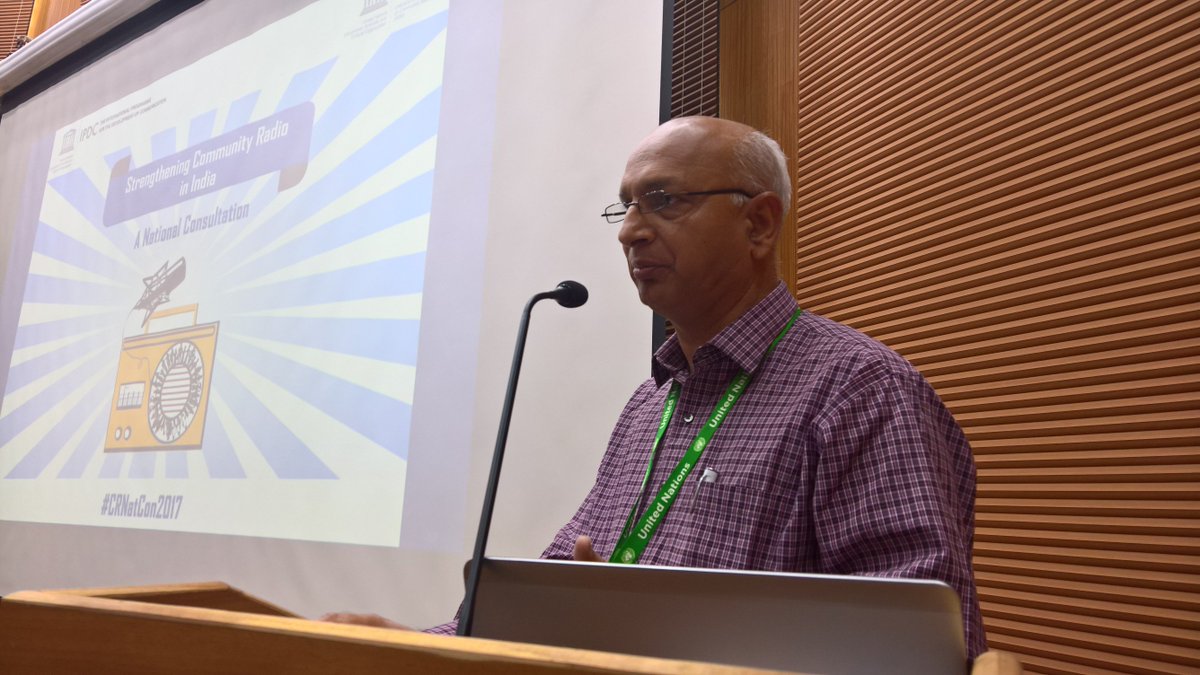 Audio Testimonial: Ashok S Sunhal
Audio Testimonial: Sajan Venniyoor

Audio Testimonial: Hemant Babu

CALL FOR CONTRIBUTIONS
CR News seeks contributions by way of news reports, features, and announcements on recent community radio activities in your organization/region/nation. Voices/stories from the field, including interviews with community members (listeners and producers) are especially welcome.
Contributions should be in English, restricted to 300 words for news/events and 450-500 words for features, and typed double spaced. Contributions may preferably be accompanied by high resolution photographs/illustrations. Contact address and details of authors/organisation should accompany the contributions.
The last date for submission is January 20, 2018.
Please email your articles/reports/features to: newscr2010@gmail.com and copy (CC) them to kanchank.malik@gmail.com
CR NEWS TEAM
SUPPORTED BY:
UNESCO, NEW DELHI
PRODUCED BY:
UNESCO Chair on Community Media, Department of Communication, Sarojini Naidu School of Arts and Communication, University of Hyderabad, Hyderabad, India

EDITORIAL TEAM:
Editors:
Ashish Sen (Former President, AMARC Asia-Pacific)
Kanchan K. Malik (University of Hyderabad, Hyderabad, India)
Writing and Editorial Assistants:
Sangeeta Mishra and K Vaishali (University of Hyderabad, Hyderabad, India)
DESIGN AND PRODUCTION:
Vasuki Belavadi (University of Hyderabad, Hyderabad)

K Vaishali (University of Hyderabad, Hyderabad)
ADVISORY BOARD:
Vinod Pavarala (UNESCO Chair on Community Media, University of Hyderabad, Hyderabad, India)

Anirban Sarma (UNESCO, New Delhi, India)
Ammu Joseph (Journalist, Bangalore, India)
AHM Bazlur Rahman (BNNRC, Bangladesh)
Raghu Mainali (CRSC, Nepal)